Five Star Extra-Select 3/8″ Cork Rings
We just received our cork order from Portugal and we are super pleased with the quality of these new 5 star rings. After talking with the Portugal factory, our rep said that the quality of the 3/8″ rings was better than the usual 1/2″ rings and being a bit of a cynic I just said that we would try some. After inspecting the cork we were blown away by the quality and the consistency of the rings. Getting 5 star rings of this quality has been a challenge for many years. We immediately placed another order and we hope that we can continue to get these rings.
Yes, 3/8″ long rings are a challenge as we are all programmed for the 1/2″ ones, although we have used 1/4″ for many years.
FYI – 17 rings = 6-3/8″L grip; 18 rings = 6-3/4″L grip; 19 rings = 7-1/8″L grip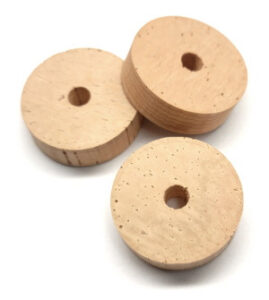 For the builder that wants the very best, these are for you. Try them and you will see what I'm talking about.