The new Sage R8 Core blanks have arrived! The blank set includes an extra tip section, and as you already know, 95% or more broken sections are the tip! How many trips have been spoiled by a broken tip sections and you have to resort to your backup rod that you really don't like anymore. Now you have the backup already at hand! No more down time for waiting to get a replacement tip to use your favorite rod, but you still have to send in the broken tip section for replacement to the warranty department. You as the custom builder are your own first line of repair/replacement; whether you decide to build the section tip section right away or keep it ready to build if the unspeakable happens.
We thought the X Series was the best ever produced and it's still a awesome rod until you cast the R8. This rod is quite amazing in that your casting stroke is smaller and the line just seems to go forever. When I first cast the 8wt at the dealer show, my rep handed me the rod and I said I wanted the 8wt, not the 6wt and then I looked at the rod and it was indeed the 8wt. It just feels much lighter and stronger in the cast with less effort. I immediately ordered a 5wt and a 8wt for myself and have used the 8wt for Atlantic Salmon in Canada, baby Tarpon in Mexico and bonefish and permit in Belize.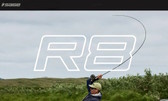 Yes the extra tip section has added approximately $140.00 to the blank cost but considering the cost of the shipping the broken blank back to Sage averages around $30-$35 and then the repair service cost of $50.00 and then the wait time; it doesn't seem too awful. Sage's stated repair time is 10-16 weeks for the new products and experience shows that sometimes it is longer.
You will not be disappointed and certainly amazed!