This is one of those indispensable tools that every workbench should not be without. A tip top sizing gauge. This is a quick and easy item that will make sizing tip tops a breeze.
This sizing tool has taken the standard tip gauge to the next level:
Sizes most common rod blank tips from 3/64″ to 28/64″

Tip sizing pegs for 3/64″ to 28/64″, great for measuring spares and confirming tube sizes

Eliminate guesswork with the exclusive guide measuring area, which allows builders to size
spare or replacement guides in sizes 4mm to 30mm

Features a handy ruler in both Standard and Metric for quick measurements

Exclusive conversion chart imprinted on the back showing MM to 64ths conversion,
range from 3/64″ (1.2mm) to 32/64″ (12.7mm)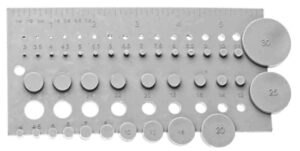 You can use digital calipers, micrometers, and laser finder on how far we are from the moon; but to be able to quickly pick up this tool and size your tip tops is one of our top 3 workbench must haves.
For the rod builder that has to have to best equipment available, we offer the Alps aluminum gauge which will never break or wear out. If you are a bit more pragmatic, the standard tip top sizing gauge will give you many years of service.