Rod Finish Brushes
There are many ways to apply rod finish, from brush to spatula to darning needles to fingertips. Over the years we have tried all the different methods and we decided that brush application works best for us. Brushes come in a variety of different shapes and quality. From expensive sable brushes to the very inexpensive one time use application brush, the purpose is the same, but the ease of applying your finish may vary with quality. The throw away brushes are great for a quick repair or a small project such as a guide replacement. The high quality sable and the Flyrodcrafters' acrylic finish brush make the job easy and you have complete control over the edge work and be able to help the finish coat your wraps evenly. If you are interested in a high quality brush go to your local art supply store and check out the section of 'flat' brushes. You will see brushes called 'fans', 'filberts', 'rounds', 'sash' or 'mop'. For some reason mop and fine rod finish don't go together.
From left to right: acrylic, sable, 2 acrylics & 2 disposables
We recommend you stay with what we call 'flat' as it easily handles all types of finish materials. The size we use is around 3/16″-1/4″ wide at the tip. A good sable brush will cost around the $8-$10 mark, whereas a synthetic one will cost $3-$4. With any finish brush, the key to extending the life of your brush is to take good care of it and clean it well.
We recommend the Flex Coat Epoxy Brush Cleaner to clean all your brushes. We pore a small amount into a glass jar to clean our brushes, that way we don't contaminate the entire container of cleaner. This stuff is wonderful! It doesn't have any odor and it doesn't evaporate like some of the harsher cleaning chemicals.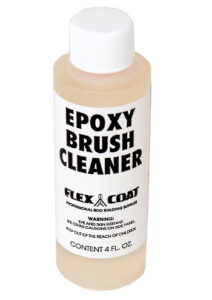 Here is a video on how to clean your finishing brushes: