We have been asked "What is the difference between the Snake Brand ECO coating and chrome plating on snake guides?" At first glance there is only a slight color difference, the ECO guides has a tint of light gold whereas the chrome guides are the bright silvery color. The ECO guides are actually smoother than chrome although on a microscopic scale but it does translate into a smooth surface for the fly line. We have also been asked if the ECO guides are durable and hard enough to stand up in saltwater conditions. Snake Brand sent their ECO guides to an independent lab for testing and the result was a hardness of 64 Rockwell Hardness which is at the top of the scale. A good hard chrome plating is rated at ~68. The result is that you don't have to worry about the durability of either guide plating.
One important consideration is the color difference between the ECO guides and chrome guides. The picture below shows the ECO on the left and the chrome guide on the right.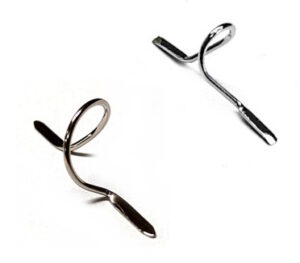 Bottom line: If you want the best guide made in the USA, then Snake Brand is the obvious choice.