Reel seat inserts are the second most difficult choice next to thread color that you will have to make when choosing your custom build color scheme. Typically we think that if I'm building on a green blank then I need a greenish insert. Okay, but consider thinking outside the box for a moment and what if you picked an insert that isn't green but still compliments the rod blank, such as a box elder burl or buckeye burl or even an wild acrylic/wood hybrid. We have matched our inserts to fit a particular set of reel seat hardware, such as a LC1/LC7 or Struble #20. This insert designation will fit these 3 different hardware sets. So keep in mind that a LC1 (Lemke LC1 seat) will not fit the LC20 insert.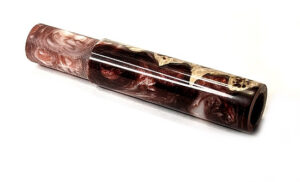 Acrylic/Wood Hybrid
At Custom Fly Rod Crafters we turn our own inserts and serial number each one so that you are confident that what is pictured is the actual insert that you will receive. Some companies give an image of what you might receive and when you do it's not like the picture; so we decided that "What You See Is What You Get" or WYSIWYG! An old computer term that fits our philosophy of customer satisfaction.
When you are deciding on your next build and we don't have what you want, do not hesitate to contact us and we will work with you to find that perfect piece of wood or acrylic.