A New Euro Nymphing Reel Seat
We have a new downlocking Euro style reel seat with a 1-1/4″ long composite cork butt end. We have paired the reel seat with burl wood insert with the cork check and choice or either gunsmoke or black anodized seats. The reel seat also has two locking nuts for added security.
Dimensions: 4-7/8″L x .420 (wood insert bore).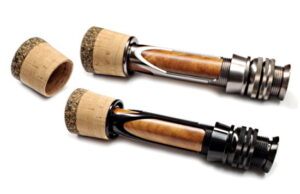 This downlocking seat pushes the weight of the fly reel towards the butt end and with the cork butt your reel is still protected from the ground while giving you the added support while nymphing with long rods.