Kimtech Science™ Kimwipes™ Delicate Task Wipers
Kimwipes are a must! These anti-static, delicate wipes are made from 100% virgin wood fibers. They are soft and nonabrasive and won't scratch the most delicate surfaces including your eyeglasses. The easily wipe up liquid and dust and absorb many times their own weight. We use these wipes with alcohol to remove excess epoxy glues and finished before they set up. We also use the wipes when cleaning our finishing brushes.
The Kimwipes are packaged in 280 wipes that measure 4.4 x 8.2 inches in a handy one-at-a-time dispensing box which has a special plastic guard to reduces airborne lint and keeps dust and debris out of the box while also reducing an electrostatic discharge.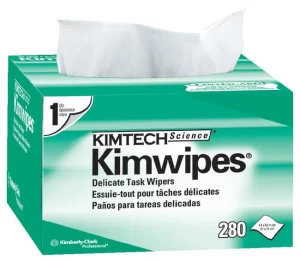 This is one thing we will not live without and we can't even imagine using something else in it's place. We've been using Kimwipes for decades. Made is the USA by Kimberley-Clark.