EPHEREMA 100% PURE SILK THREAD
This is a great substitute for the old Pearsall's Gossamer thread (between 6/0 and 8/0) and also outstanding thread for tying Classic Salmon flies. 16 gorgeous colors in 100 meter spools.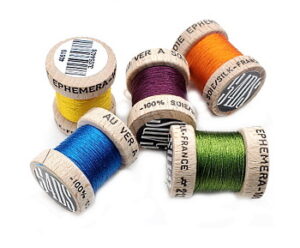 Pure Silk Ephemera Thread manufactured in France by Au Ver á Soie is the best possible choice for the most demanding custom rod builders. Easy to use, it is undoubtedly the most versatile pure silk thread on the market today. The Pure Silk Ephemera Thread has been produced in France for over 180 years by the historic Parisian signature Au Ver a Soie. The dyeing on tanks and more generally the extremely high-quality artisan production process guarantees a perfect uniformity of colors.