Struble Mfg. is under new ownership and once again producing quality reel seat and components.
For many years Struble Mfg. was the benchmark for the top quality machine-works for producing reel seats and components for the major rod manufacturers and custom fly rod builders. After talking with the new owners they gave us confidence that they will again be a significant seat producer. For decades we sold and used Struble seats on our custom rods and we are certainly glad they are back!
Starting with the iconic #20 series which they are producing now in anodized aluminum (4 colors), they hope to expand back into the nickel silver reel seat series in the near future.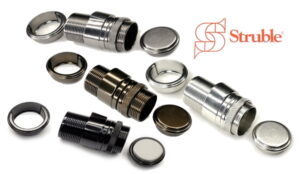 We are stocking the #20 aluminum seats in uplocking and downlocking skeleton versions; inserts are sold separately. We also are stocking the nickel silver slide band seats and winding checks.