Just a Quick Note about Lemke Reel Seats
After some time off due to a back injury, Joel Lemke is getting back to work. CFRC just received another order of Lemke Concepts reel seats. These are some of the more unusual seats from the best manufacturer of seats. The 'Grilled' bronze seat is the standard LC10 size in the champagne color.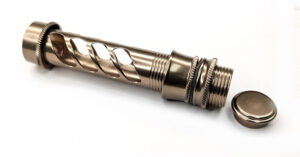 These new vented 'Grilled' seats really add that special custom feature to any rod. The high quality of the machining and finishing is tops. Check them out and you will be surprised!