A Tip Top Travel Repair Kit
What is the worst thing that happens on a trip? A broken tip is the most common and one that can be repaired in the field. Our 'Fly Top Travel Repair Kit' is very handy when the unexplained and tragic broken fly tip top happens while traveling.
With the sizes included you will be able to replace the tip top on your broken fly rod usually down to the first snake guide, you then will be able to continue fishing.
We offer the kits in freshwater (standard loop) and saltwater (large loop) versions. Each kit comes with 4 tip sizes, instructions and Flex Coat thermal tip top cement so all you need is a lighter.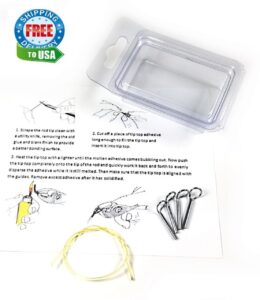 Toss one of these repair kits in your tackle bag and it becomes inexpensive travel insurance!