Have you ever had Rod Tube Identity Crisis? I have; I started marking my aluminum rod caps with a felt marker which looked like my dog did the writing. Over the years, stickers and labels were being produced by the major fly rod manufacturers but the custom builder had to be more creative. CFRC started producing a tube label that has been very popular and makes sense to label your custom builds for yourself or others. Simply and easy to use and includes a clear protective cover label over your rod specs.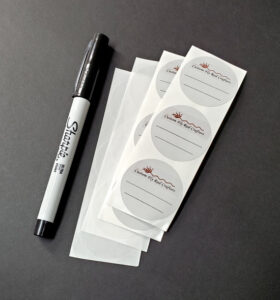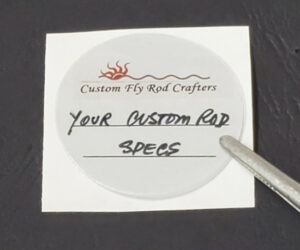 Peel & Stick Labels – 6 Pak which Includes Optional Clear Cover Labels & Permanent Marker
ID labels for identification of your rod tubes.
1-1/2″ diameter fits most rod tube caps.
Instructions:
Write your information with included permanent marker & let dry for 5 minutes
Remove backing from peel & stick label
Apply to your rod tube cap
Press OPTIONAL clear cover label over your specs for added protection