Why We Prefer the Surgical Scalpel Blade
Although both the X-Acto knife and the #10 Scalpel blade do the job of trimming thread ends, I prefer the surgical blade as the thinner blade makes the scalpel a bit more flexible than the X-Acto which results in a cleaner cut and less likely to damage surrounding thread wraps. My experience so far has shown the scalpel to be easier to use when making tight and detailed cuts. They also seem to last longer than X-Actos in similar applications. The classic #2 X-Acto blade has a thickness of 0.02" whereas the comparable #10 scalpel has a thickness of 0.015" making it easier to move though the material it has to cut. Which makes it even more dangerous than the utility knife as both are very good at removing your finger tips. Although the thickness difference is not really noticeable when trimming size A nylon or even silk, the scalpel does seem to work better with finer silks than either the X-Acto or the single sided razor blade which some rod builders advocate.
Shown below is about a 50 power microscope image of new and used blades:
New X-Acto Knife
New #10 Scalpel
Used X-Acto Knife
Used #10 Scalpel
You make the call. The X-Acto Utility knife is less expensive than the scalpel but under normal applications (less dropping on the floor), the scalpel blade will typically hold the edge longer than the utility knife.
The knife shown above is the most common type, fitted with a "Number 1 or 2" blade. It is about 5-3⁄4 inches (146 mm) overall. The knurled collar loosens and tightens an aluminium collet, which holds the replaceable blade. There are numerous other knives on the market with very similar designs, and blades are typically interchangeable between different brands.
Whereas a scalpel, or lancet, is a small and extremely sharp bladed instrument used for surgery, anatomical dissection, and various arts and crafts. Scalpels may be single-use disposable or re-usable. Re-usable scalpels can have attached, re-sharpen-able blades or, more commonly, non-attached, replaceable blades. Disposable scalpels usually have a plastic handle with an extensible blade (like a utility knife) and are used once, then the entire instrument discarded. Individual scalpel blades are usually individually packed in sterile pouches but are also offered non-sterile.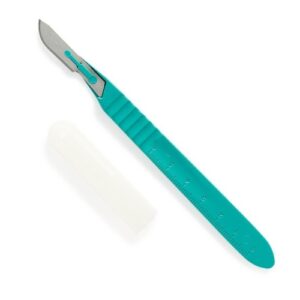 The original knife was invented in the 1930s by Sundel Doniger, a Polish immigrant to the United States. He had planned to sell it to surgeons as a scalpel but it was not acceptable, because it could not be cleaned. His brother-in-law, Daniel Glück (father of poet Louise Glück), suggested that it might be a good craft tool.
And there you are! The perfect rod wrapping thread trim tool!