Flex Coat Quick Fix Rod Repair Kit
If you're in a hurry to repair your rod and want to get back on the water fast, this kit uses
Flex Coat's Five Minute Epoxy to finish your guides. It is not intended to be a final finish,
but will get the job done. Your rod will be ready to fish in less than an hour as opposed to
12-24 hours using standard epoxy finishes. And this fix will last for years.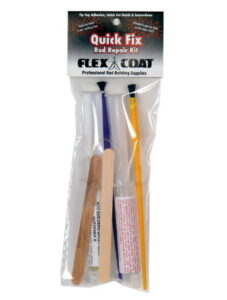 This handy kit that you can have in your gear bag includes:
Tip top adhesive
Quick set finish
Mixing sticks and application brushes (2)
Instructions on repairs
By the way, this repair kit can also fix tip tops, reel seat parts that come loose, sunglasses frames (how would I know this) and just about anything!