Thin Wire Thread Puller
There are many 'Thread Pullers' available and we have found this one to be one of the toughest and long lasting ones; The 'Thin Wire' thread puller is relatively new to custom rod building and we offer a package of 2 for$3.95.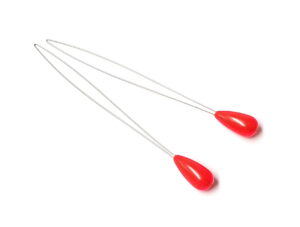 The quickest and easiest way to tie off your thread wraps! No more pinching thread loops only to have them twist up and break. This Thread Puller is easy to find on your rod building bench with its red fluorescent bead; just wrap over the unbeaded loop, grab the bead and pull it through.
These pictures show how to use the wire thread puller: